In 2022, the Kazakh food startup Airba Fresh successfully released its mobile app. The app offers users the convenience of ordering groceries from their homes. Airba Fresh expanded its operations shortly after its release by opening an offline store. The store showcases a wide range of Airba Fresh-branded products, ensuring customers receive fresh and high-quality goods.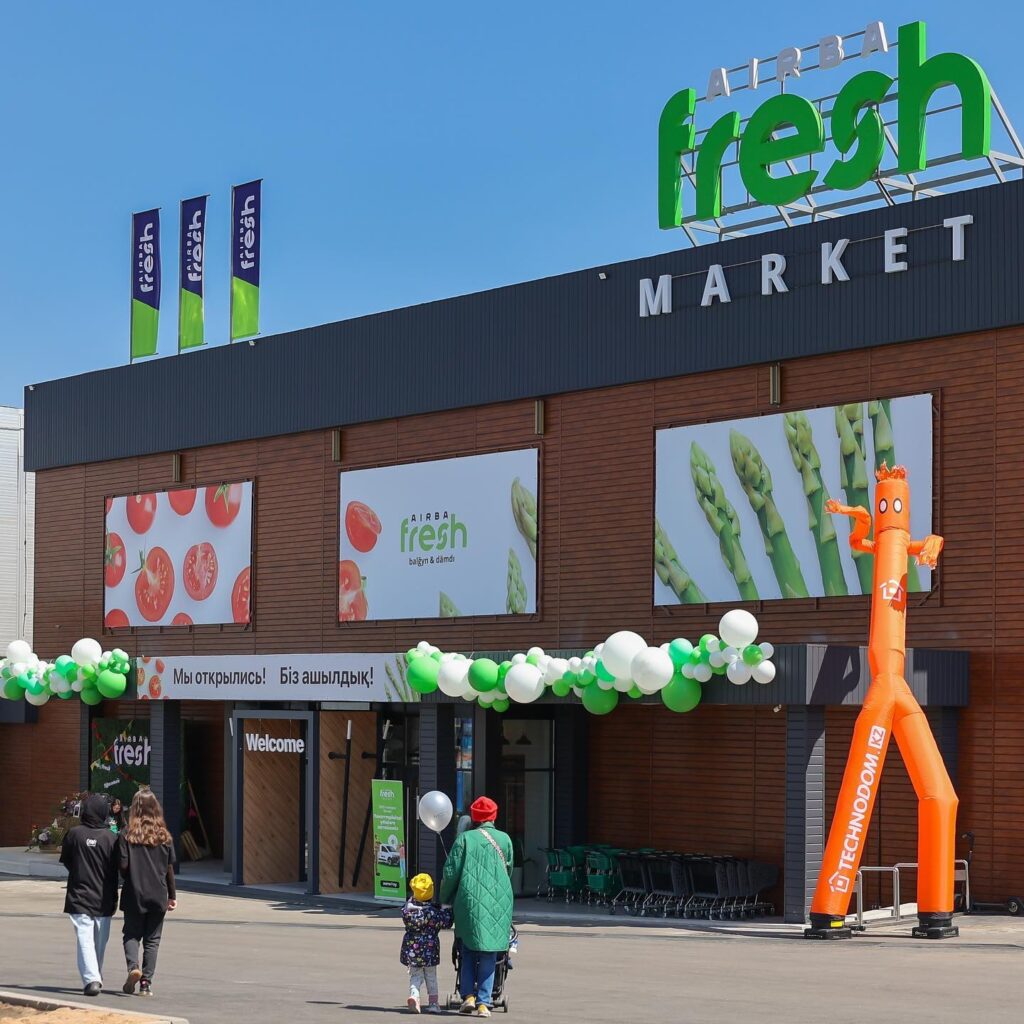 Before the project launch, the company management placed significant emphasis on automating key business processes. This strategic move aimed to streamline routine daily activities, allowing the team to focus more on overall business development. To achieve this, Airba Fresh opted to implement Retano's solution sets, which include an ERP system, online store management solutions, and personalized loyalty programs for customers. By integrating these solutions, Airba Fresh aims to enhance operational efficiency and provide a personalized shopping experience for its customers.
Online store management solution
The Airba Fresh project team has set the following objectives to accomplish:
Launch a user-friendly and highly functional online platform that offers a wide range of high-quality products.
Provide customers with comprehensive product information and features.
Create an easy-to-use ordering process with multiple payment options for customers.
Establish real-time communication channels with customers to provide order status updates and confirmations.
Ensure timely delivery of orders.
Before initiating the project, Airba Fresh conducted market research to identify its customers' needs and preferences. It was determined that effective customer service was crucial at every stage of the online shopping experience, ranging from product selection to order placement and delivery.
To accomplish this, the company required a powerful online order management system. Airba Fresh opted for Retano E-commerce, which provided the necessary technology to meet its objectives. The system not only automates the order fulfillment process but also enables real-time inventory control and transaction tracking, ensuring customers are informed about each step of the ordering process.
The implementation of Retano ERP and the automation of business processes allow the retailer to prioritize development and spend fewer hours on daily tasks
Retano ERP improves Airba Fresh overall operational and financial performance by automating the following processes processes:
Assortment Management:
Airba Fresh utilizes product matrix management to simplify inventory management. This system helps systematize the store assortment based on product characteristics and conduct operational ABC analyses.
Inventory Management:
The ERP system enables the tracking of goods stock in warehouses and stores, as well as managing the delivery and cancellation processes.
Production Management:
With the ERP system, Airba Fresh efficiently manages production operations, tracking both production and finished products. This includes cost sheet formation, tracking cutting and baking operations, automatically calculating cost prices, and utilizing the research of similar products when ingredients are unavailable.
Sales Management:
The ERP system plays a crucial role in controlling the sales process, including accounting and analytics.
Contract Management:
Through the ERP system, Airba Fresh maintains centralized accounting of settlements with suppliers based on a single contract database. It also facilitates the evaluation of service quality using predefined criteria.
Warehouse Management:
The Mobile Data Terminal automates various warehouse processes, such as receiving, shipping, returning, inventory, and goods transfer.
Retano Loyalty&CRM develops personal relationships with customers
While Retano ERP includes basic tools for creating simple loyalty programs, Airba Fresh sought a more efficient and comprehensive solution that offered flexible promotion-building capabilities and customer behavior analysis. Retano Loyalty&CRM was chosen as a result, and it easily integrates with the Airba Fresh mobile app.
To attract regular customers, Airba Fresh employs various strategies beyond standard discounts and promotions. For instance, they utilize the "Welcome Bonus for the first 3 orders" and "Cashback" programs. Within the system builder, the marketing manager sets the conditions for bonus accrual (e.g., 1.5% of the purchase amount), validity periods, and bonus deductions. For example, the retailer may decide to limit the payment of an order using bonuses to no more than 40% of the total amount.
The system also allows for setting bonus redemption limits, such as for specific product categories. Additionally, Airba Fresh can select target customer groups based on their interests and preferences and proactively notify them through various communication channels. After a campaign ends, its effectiveness can be evaluated using specific indicators. The gathered data can then be utilized to foster more personalized and enduring relationships with customers, thereby increasing their loyalty.