Retano SCM
Harness the power of Artificial Intelligence and Big Data technologies to optimize supply chain operations
Ensuring continuous stock availability on store shelves is a crucial task in the retail business. It requires striking a balance between maintaining optimal stock levels and managing logistics costs efficiently.
Retail businesses have the opportunity to improve their key performance indicators (KPIs) by enhancing the quality of their supply chain management processes.
Retano Supply Chain Management
Retano SCM is a SaaS-based solution leveraging BigData&AI for automated supply chain management in retail.
Suitable for retailers of any size, format, and product range seeking rapid improvement in supply chain quality.
Minimal initial investment required to activate Retano SCM subscription.
No additional hardware or server infrastructure needed.
Compatible with any ERP solution used by retailers.
Seamless integration without requiring changes to merchandising, store management systems, or WMS.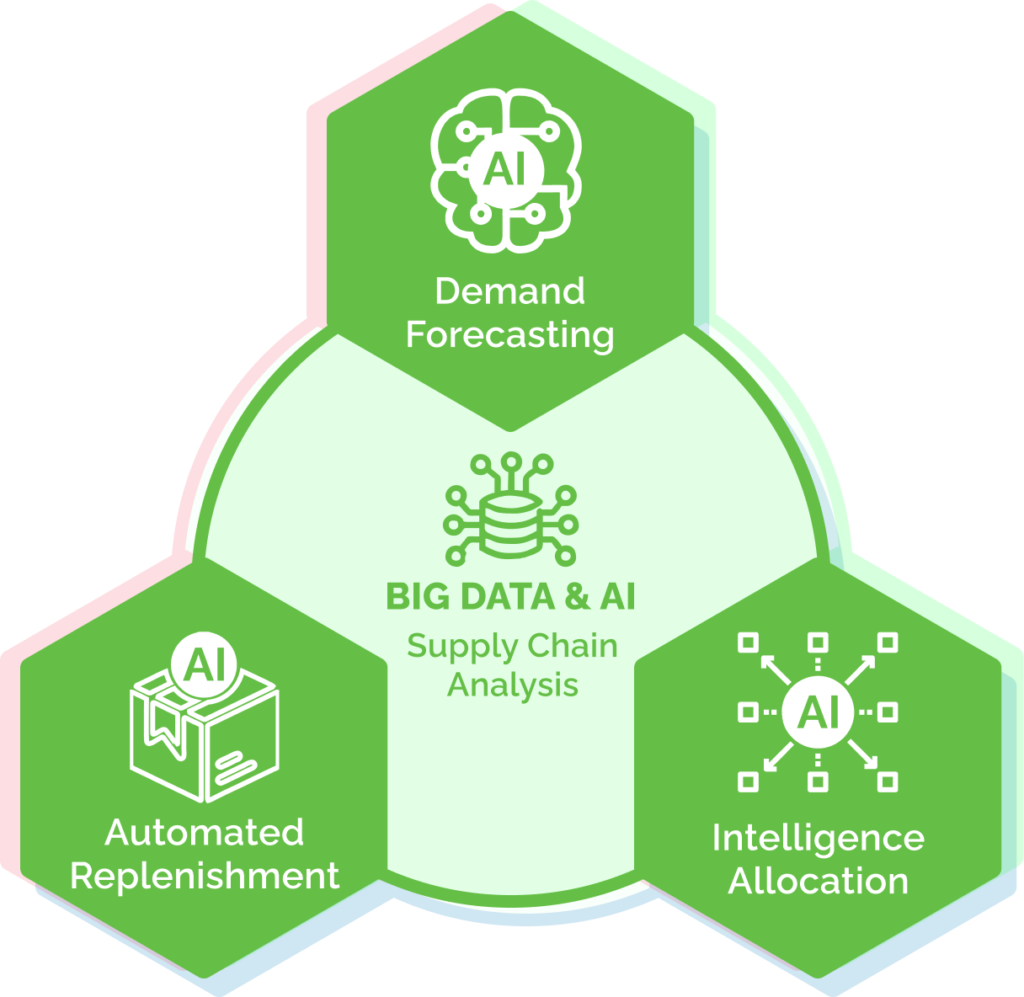 Experience the power of supply chain analysis with our system, a robust decision support tool. It conducts a comprehensive assessment of the impact of supplier service levels and safety stock balances throughout the supply chain. Furthermore, it aids in researching trends and identifying correlations to identify the most optimal replenishment options.
Benefit from optimized demand forecasting through the utilization of Artificial Intelligence. Our system intelligently selects the most effective forecasting method and determines the optimal parameters specific to each product, ensuring accurate predictions.
Streamline your ordering process and minimize manual corrections with automated ordering. Our system calculates replenishment quantities based on sales forecasts, demand variability, and takes into account all relevant supply chain constraints. This ensures efficient inventory management while reducing the need for manual intervention.
The benefits of Retano SCM
Drive significant improvements in product availability at stores through our solutions.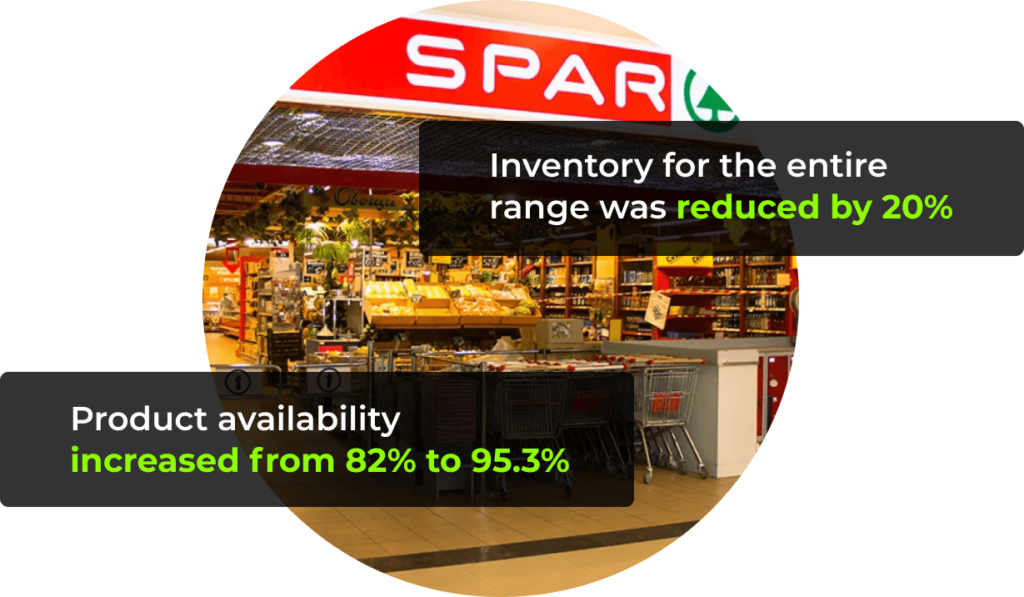 Introduce commercially valuable products into your range and mitigate the issue of inconsistent product availability on shelves. This inconsistency often results in lost sales and reduced replenishment volumes, particularly for products with limited shelf life. Without intervention, this pattern can lead to the gradual disappearance of these products from the range altogether. By implementing Retano SCM, you can effectively reduce lost sales by addressing product availability issues and maintaining a consistent supply on store shelves.

The impact of customers not finding products on shelves cannot be underestimated, as it may result in irreversible loss of customers to competitors. This damage can be significant for retailers. Retano SCM is specifically designed to prevent such scenarios by ensuring consistent product availability, thereby retaining customers and mitigating the risk of customer attrition to competitors.
In typical scenarios, payment delays to suppliers do not exceed the time required to sell the products they provide. However, if the sales cycle is prolonged, it results in capital being tied up in inventory, negatively impacting the retailer's performance. By improving the quality of supply chain processes, it becomes possible to release this tied-up capital and enhance overall performance.
The proportion of waste is directly related to the size of the inventory. As the inventory decreases, the percentage of waste also decreases. Accurate forecasting plays a crucial role in minimizing waste losses, as it enables better inventory management and reduces the risk of overstocking.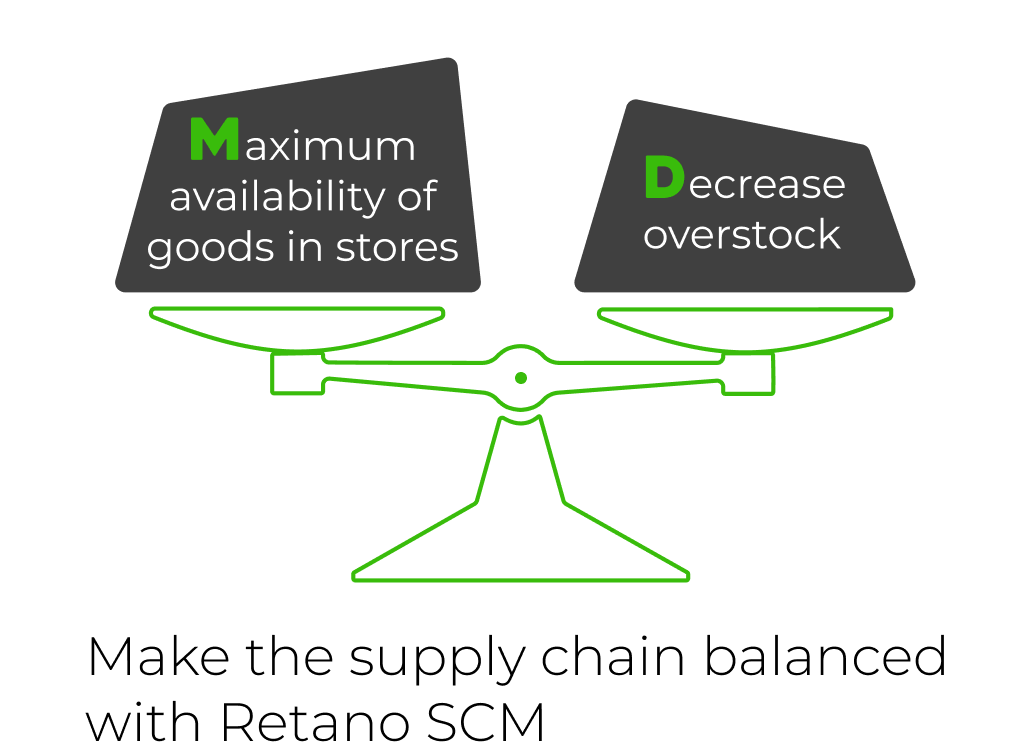 Decrease in logistics costs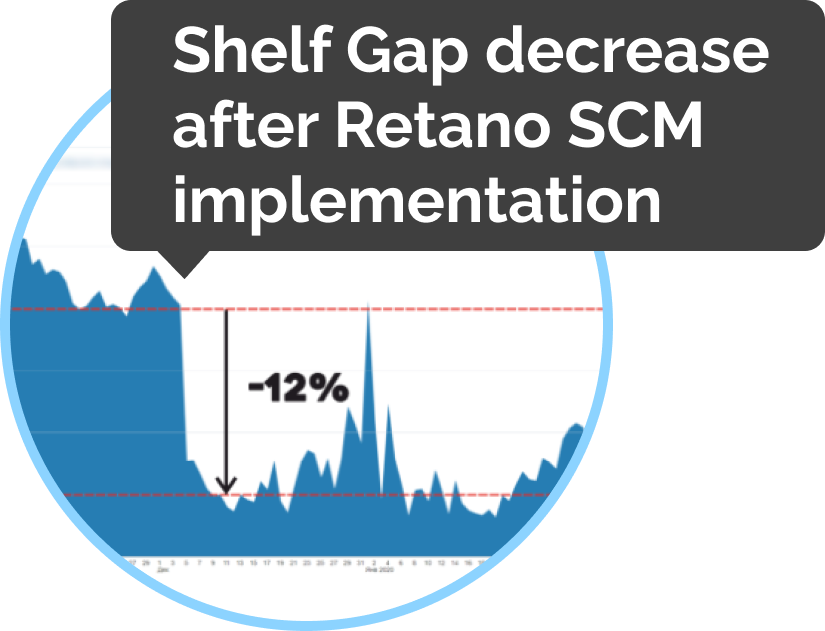 Achieve optimal inventory replenishment for distribution centers (DCs) and stores through Retano SCM.
Our system's order calculation process considers critical logistical parameters including lead time, pack size, expiration dates, and order submission time limits.
By accurately calculating orders, retailers can implement efficient cargo management processes such as cross-docking and pick-by-line for storage and DC operations. Notably, renowned retailers like Tesco utilize these mechanisms to drive operational excellence.
Decrease in amount and labor intensity of manual corrections
Retano SCM provides the ability to compare key performance indicators (KPIs) of the supply chain between automated and manual ordering processes, enhancing decision-making transparency.
By utilizing Retano SCM, retailers can reduce their reliance on the human factor. While experienced employees are capable of creating high-quality orders, the performance of AI-driven systems surpasses human capabilities over time, minimizing errors. Additionally, the solution mitigates the challenge of knowledge transfer for new personnel, ensuring consistent and optimal performance regardless of expertise level.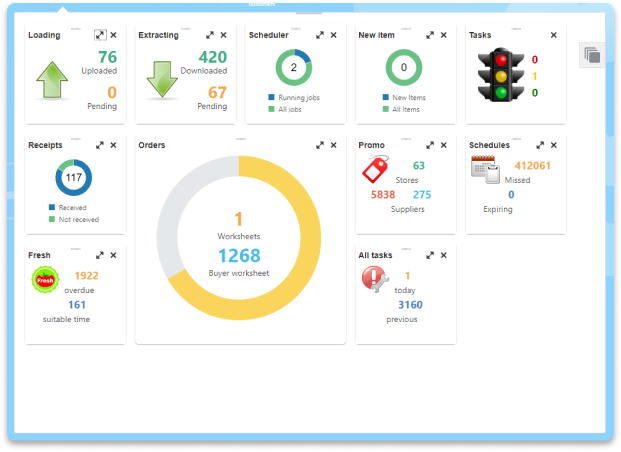 Retano SCM features
1

Forecasting based on demand, not sales
Retano SCM excels in providing accurate demand forecasts by leveraging clean sales statistics. It takes into account various factors such as out-of-stock situations, sales anomalies, promotional activities, seasonal variations, and holidays.
The system incorporates advanced forecasting methods developed by esteemed mathematicians, which are widely adopted by leading retailers for accurate predictions across diverse product categories.
Retano SCM's forecasting mechanisms are specifically tailored to address the unique characteristics of the retail industry. They possess the capability to detect trends and seasonality patterns, even for products with infrequent sales or limited sales history based on aggregated data at different hierarchy levels.
To minimize manual effort, the system automatically selects the most suitable forecasting algorithms, reducing labor-intensive tasks for retailers.
2

Specialized tools tailored for retail businesses, harnessing the potential of Big Data

Artificial intelligence autonomously selects the most optimal replenishment method
We employ specialized methods capable of calculating the optimal safety stock for replenishing different product groups. These methods ensure efficient inventory management and enhance the accuracy of stock replenishment decisions.

Our system maximizes the advantages of retailers with one or more distribution centers in their supply chains
Our system optimizes product ordering for promotions by utilizing multiple waves and leveraging the distribution center as a buffer to mitigate forecast deviations across stores.

Comprehensive supply chain KPI analysis with "drill down" capability
Our system allows for real-time adjustment of replenishment parameters within the same interface during analysis.
3

Big Data-driven Supply Chain Analysis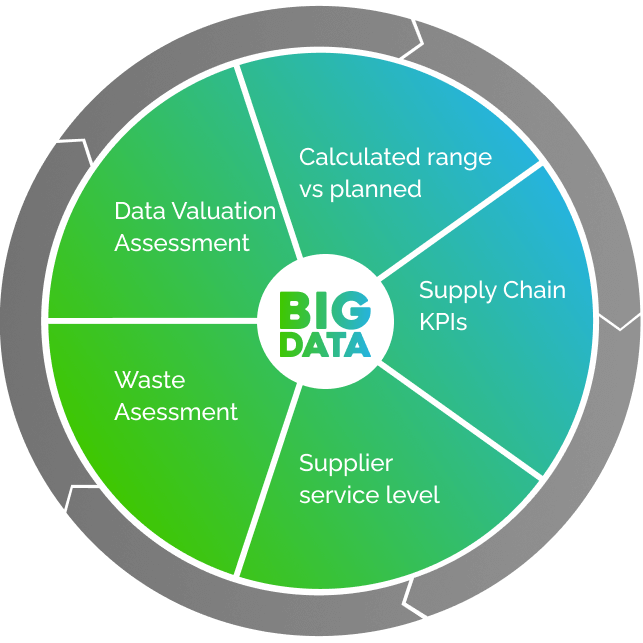 Analyzing vast and diverse datasets is essential for making critical decisions related to inventory, availability, and optimizing the supply chain. By harnessing the power of data analysis, valuable insights are derived to drive informed decision-making and enhance supply chain operations.
Big Data analytics offers numerous benefits for supply chain management, including:
Real-time transparency of logistics processes, enabling better visibility and control over operations;
Formation of a lean supply chain, optimizing efficiency and reducing waste;
Improvements in customer and supplier satisfaction through enhanced responsiveness and communication;
Effective relationships with suppliers, facilitating collaboration and streamlined operations;
Enhanced understanding of product performance, leading to optimized product ranges and decreased waste;
Implementation of a unified and modern communications system for efficient operational decision-making.
By harnessing the power of Big Data analytics, companies can gain valuable insights and leverage them to drive continuous improvements in their supply chain operations.
Our solution is built on a Service-Oriented Architecture (SOA), which allows for seamless integration with other systems. This facilitates efficient data exchange, enabling smooth communication and collaboration between different systems.
Our SOA prioritizes simplicity and security, ensuring quick and secure data transfer for enhanced system functionality and interoperability.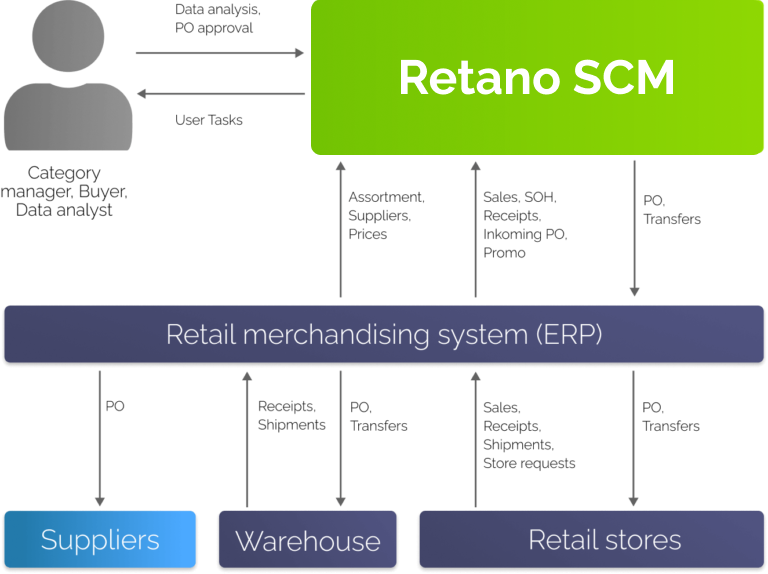 Publications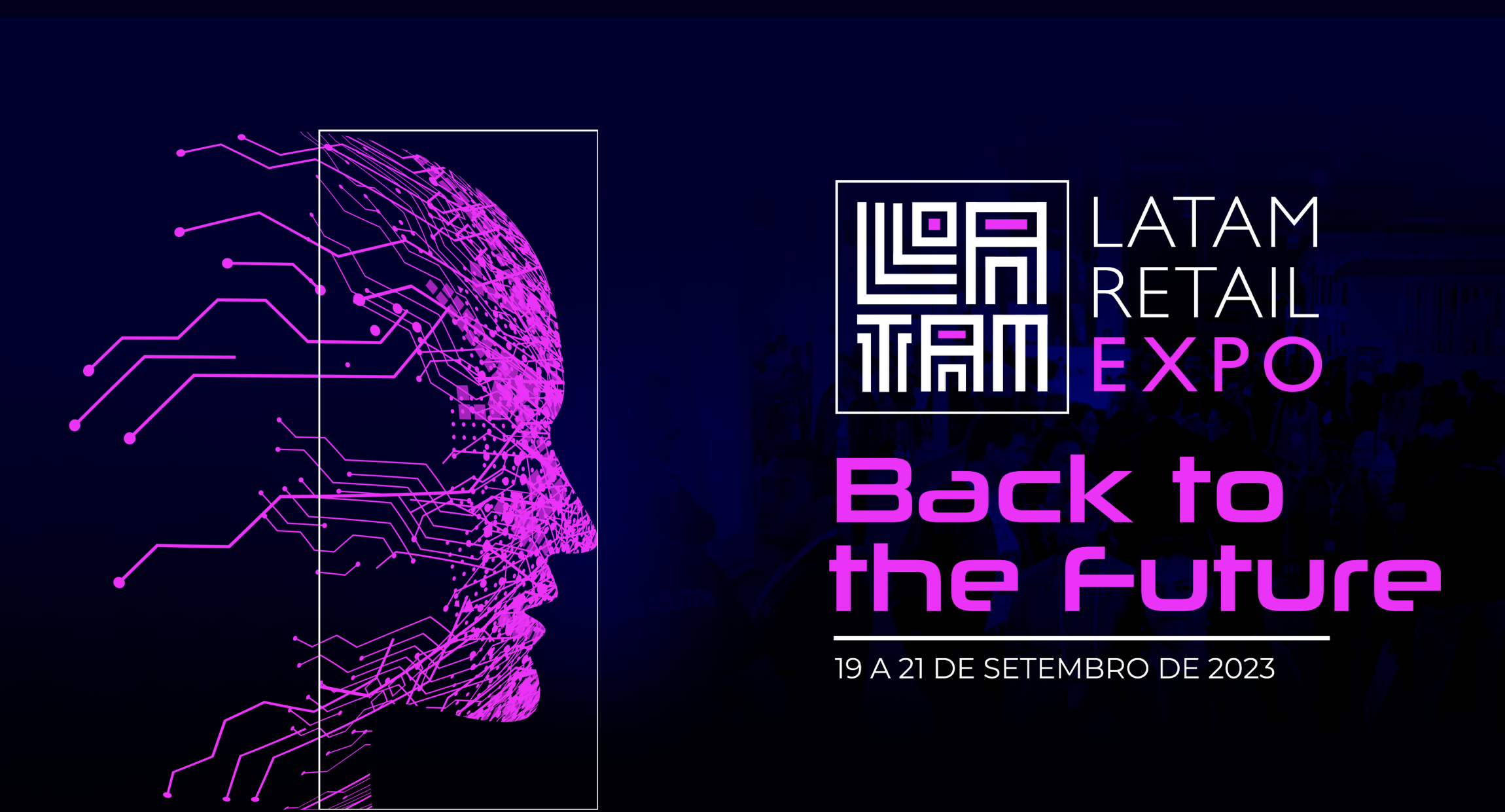 Retano Solutions is excited to be part of the Latam Retail Expo, the foremost B2B retail and consumer event in Latin America, scheduled for September 19-21, 2023, in São Paulo, Brazil. At this event, industry leaders and companies will come together to explore top-notch retail solutions and gear up to address the sector's challenges. Retano's… Read More »Retano at Latam Retail Expo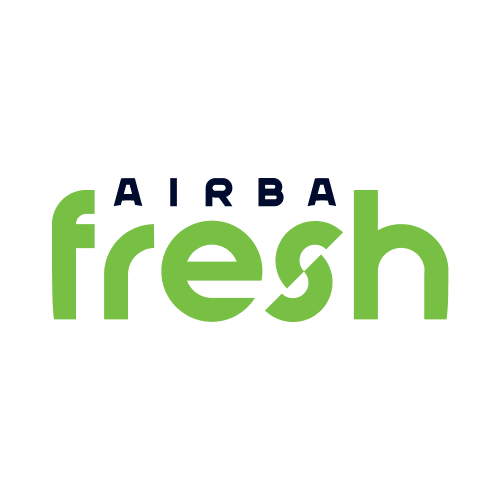 In 2022, the Kazakh food startup Airba Fresh successfully released its mobile app. The app offers users the convenience of ordering groceries from their homes. Airba Fresh expanded its operations shortly after its release by opening an offline store. The store showcases a wide range of Airba Fresh-branded products, ensuring customers receive fresh and high-quality… Read More »Airba Fresh improves omnichannel operations and personalizes loyalty programs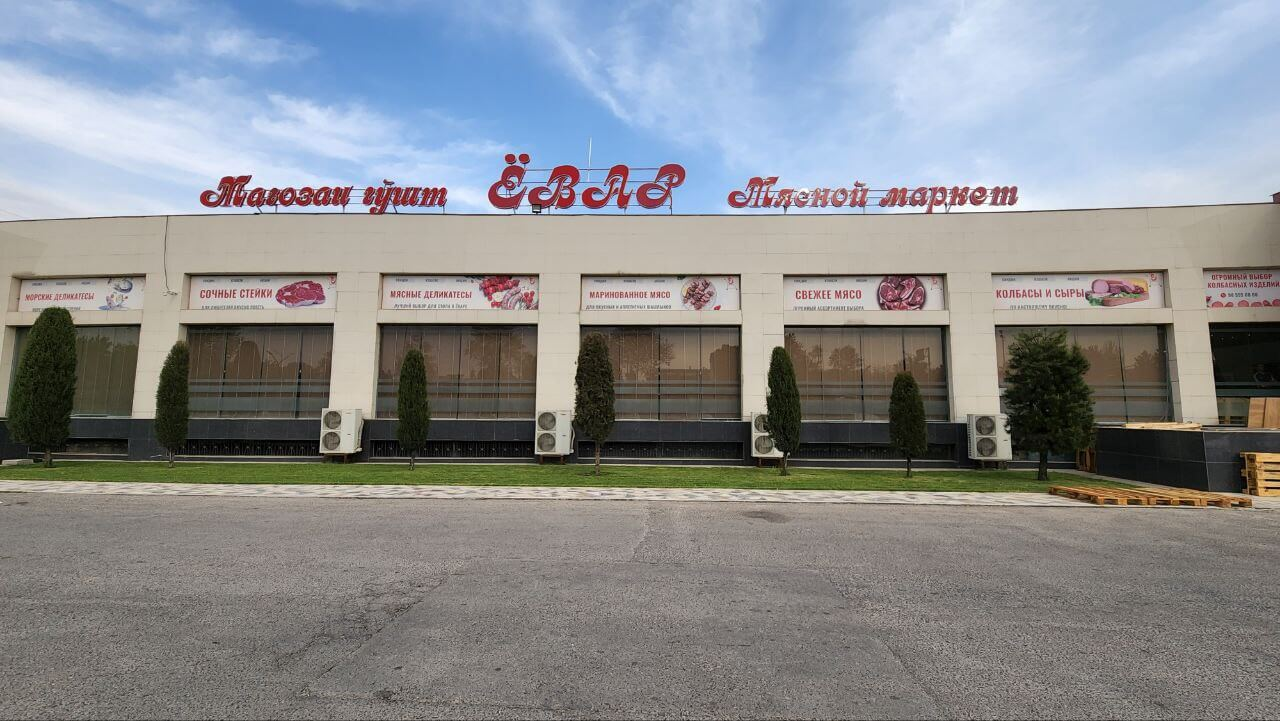 In a world where customers increasingly expect a personalized approach to their needs, working with individual preferences is becoming an important aspect for the retailer. With Retano Loyalty&CRM solution, "YOVAR" has found all the necessary to achieve its objectives. The "YOVAR" opened its first store in 2013. Currently it is the largest food retailer in… Read More »Yovar has chosen Retano Loyalty&CRM solution