Retano SCM
Artificial intelligence & Big Data technologies for supply chain optimization
Solutions map >
One of the vital tasks in the retail business is to provide continuous stock availability on the store shelves. There should be a balance between stock and logistics cost.
Retail businesses can enhance KPIs by improving the quality of supply chain management processes.
Retano Supply Chain Management
BigData&AI based SaaS-solution designed to automate retailer's supply chain management.
Retano SCM demand forecasting and replenishment system is designed for the retailers of any size, format and product range requiring the fast improvement of their supply chain quality.
Activate Retano SCM subscription with minimal initial investment. No additional hardware servers infrastructure required.
Retano SCM is compatible with any ERP-solution used by retailers. No changes in merchandising, store management system or WMS.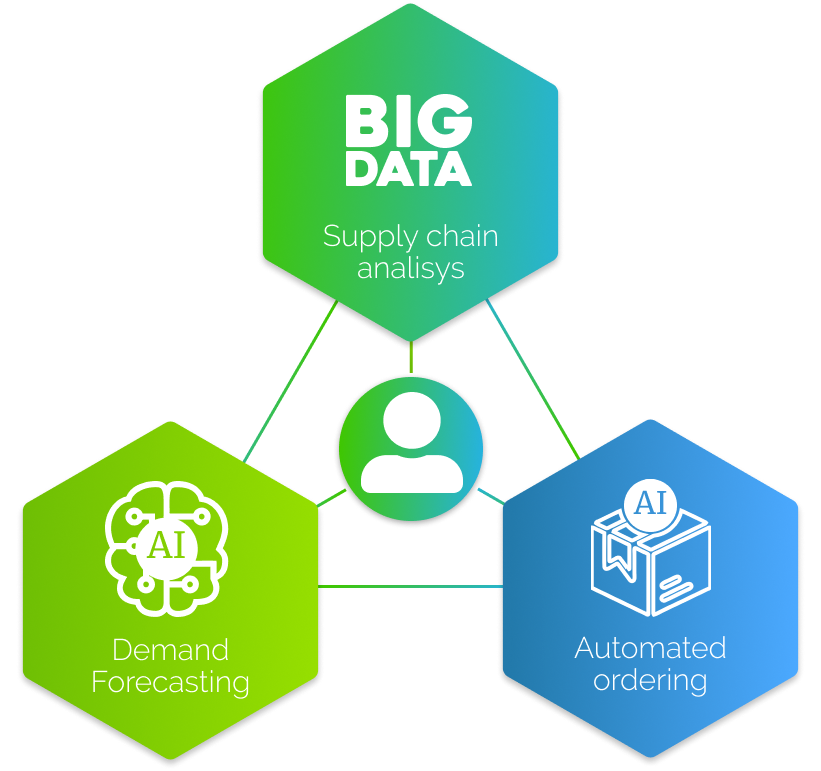 Powerful supply chain analisys. The system is a powerful decision support tool. The system assesses the impact of supplier's service level and safety stock balance across the supply chain. It helps to research trends and mutual correlations to find the most optimal replenishment options.
Optimized Demand Forecasting. Artificial intelligence chooses the most effective forecasting method and the optimal parameters for particular products.
Minimise manual corrections with automated ordering. The system calculates replenishment based on sales forecast and demand variability, considering all supply chain constraints.
Retano SCM benefits
Highest Products Availability in Stores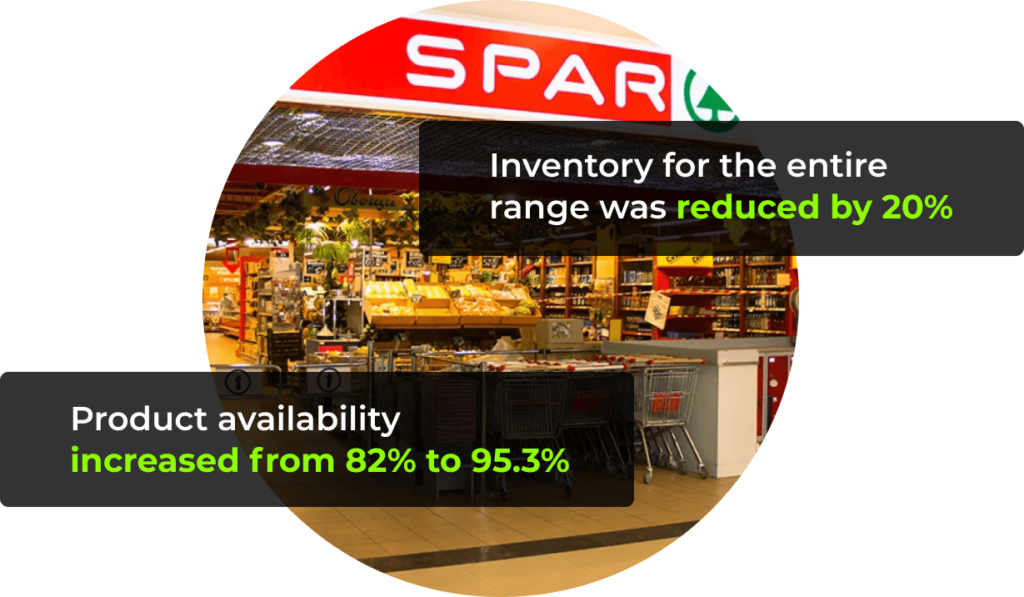 Usually more commercially valuable products are introduced into the range. The inconstant presence of products on shelves leads to lost sales. This decreases the replenishment volume of these products (especially if these products have limited shelf life). As a result, products are increasingly more absent on shelves and this process continues until they are completely washed out from the range. Lack of products on shelves leads to lost sales. Retano SCM decreases lost sales.

If customers don't find products on shelves, a part of them will irreversibly leave for competitors. It is hard to overestimate the damage this may cause. Retano SCM is designed to prevent this scenario from happening.
Usually, the payment delay to suppliers does not exceed the time needed to sell provided products. This is why if the aforementioned sale takes longer, capital has to be frozen in stock, which decreases retailer's performance. Increasing the process quality of the supply chain allows to unfreeze the capital.
The share of waste is proportional to the size of the stock. The smaller the stock is, the smaller is the share of the waste. Accurate forecasting decreases waste losses.
If one product order is only enough to sustain the store for one replenishment cycle it's harder for employees to steal merchandise.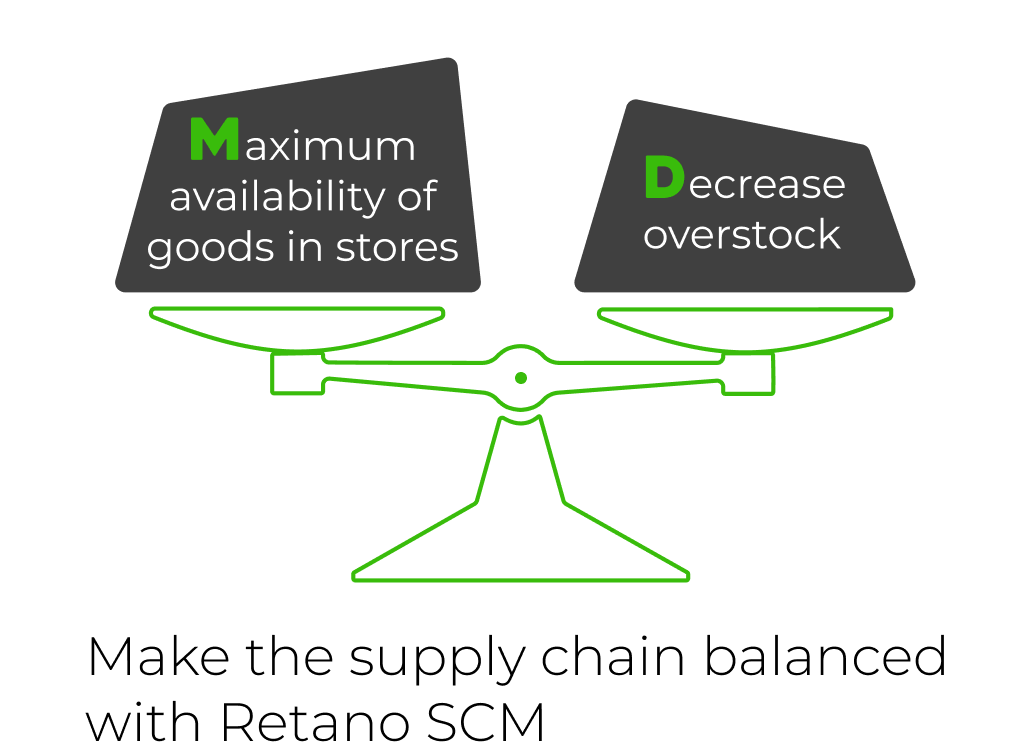 Decrease in logistics costs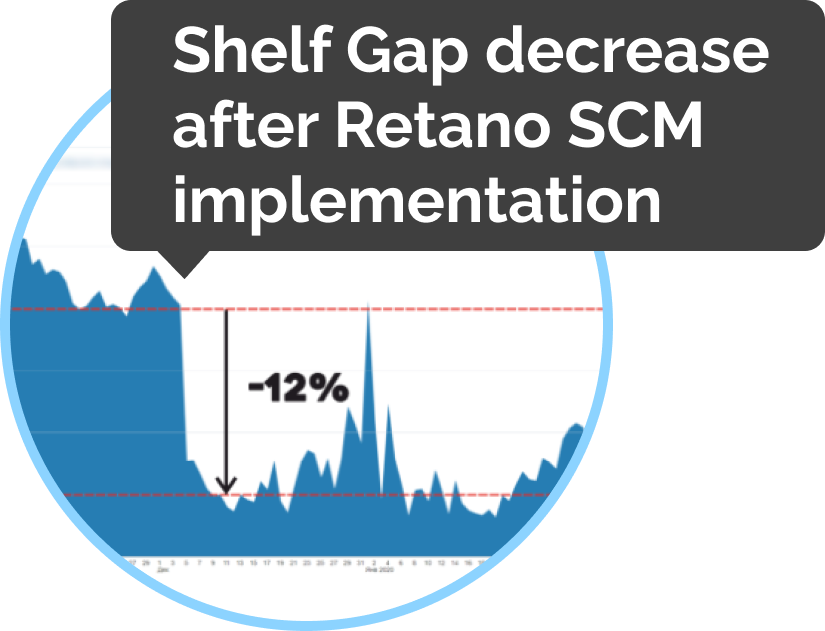 Optimize size and frequency of replenishments for DC and stores.
Retano SCM order calculation process takes into account various logistical parameters: lead time, pack size, expiration dates, order submission time limits, etc.
Accurate order calculation allows to utilize effective cargo management processes: cross-docking and pick-by-line for storages and DCs. Best retailers in the world, like Tesco, use these mechanisms in their operations.
Decrease in amount and labor intensity of manual corrections
Retano SCM allows comparison of KPIs of supply chain for automated and manual ordering. This increases the decision-making transparency.
Retano SCM lowers retailer's dependency on human factor. Experienced employees are capable of creating high quality orders, but over time their performance would still not be as optimal as AI's due to errors they make. New personnel also would not always inherit the expertise fully.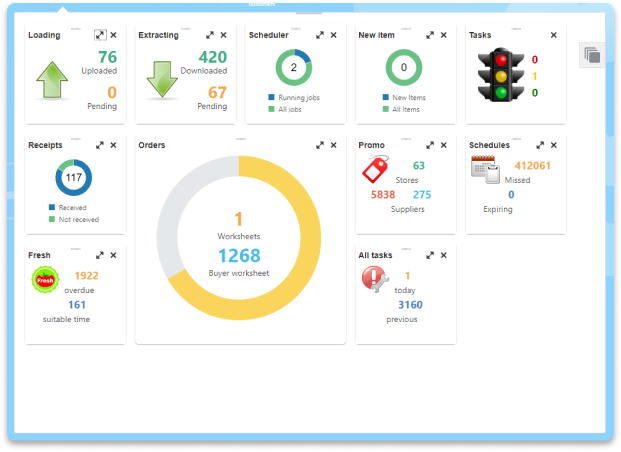 Retano SCM features
1

Forecasting based on demand, not sales
Accurate demand forecasts based on cleaned sales statistics. Retano SCM takes into consideration absence of products on shelves, anomalies in sales, promos, seasons, and holidays.
Various forecasting methods developed by renowned mathematicians and employed by best retailers are used for forecasting of different product groups.
Retano SCM forecasting mechanisms are designed to address retail specifics. It can sense trends and seasonality for rarely sold products or products with sales history based on aggregated data on different hierarchy levels.
Forecasting algorithms are chosen automatically to decrease the labor-intensity.
2

Tools focused on big data and retail business specifics

Artificial intelligence chooses the optimal replenishment method
Specialized methods capable of calculating optimal safety stock are used for the replenishment of various product groups.

Systems utilizes retailer's advantages for the SC with one or more DCs
Product ordering for promos in several waves with DC serving as a buffer to even out forecast deviations for separate stores.

Comprehensive supply chain KPI analysis with "drill down" option
During the analysis linked parameters of replenishment can be corrected on the fly in the same interface
3

Supply Chain Analysis based on Big Data technologies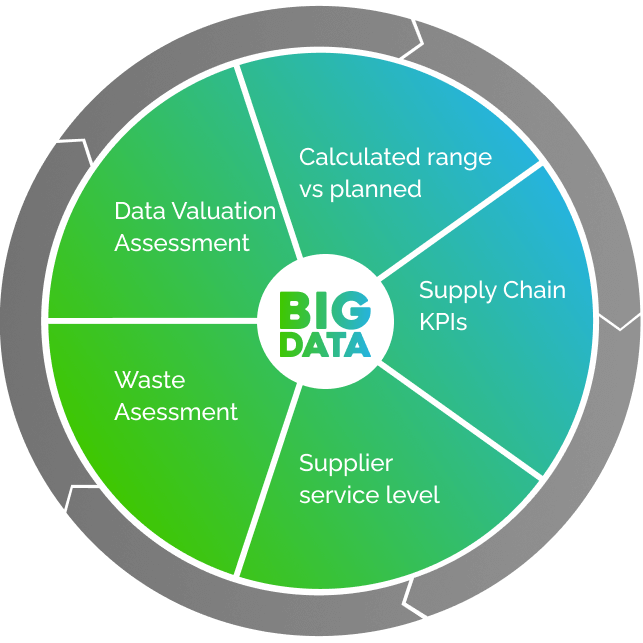 To make informed decisions regarding the company's stock and availability, find insights and optimise the supply chain it is necessary to analyze large amounts of diverse data.
Big Data analytics provides:
Real time transparency of logistics processes
Formation of a lean supply chain;
Improve customer / supplier satisfaction;
Build effective relationships with suppliers;
Better understand product performance to optimize range and decrease waste;
Unified and modern communications system for operational decision making.
SOA of the solution enables you to create full functioning, reliable and easy structured integration with other systems. It allows quick, trouble free and secure data exchange implementation.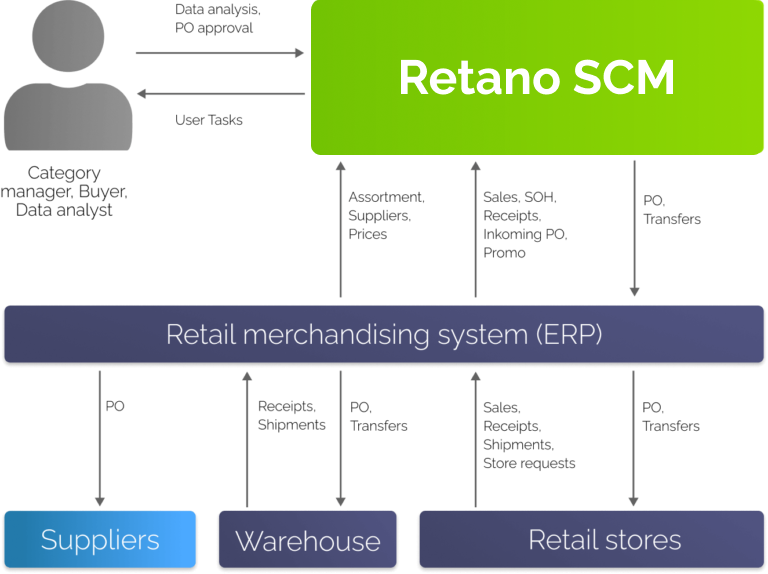 Recent posts about Retano SCM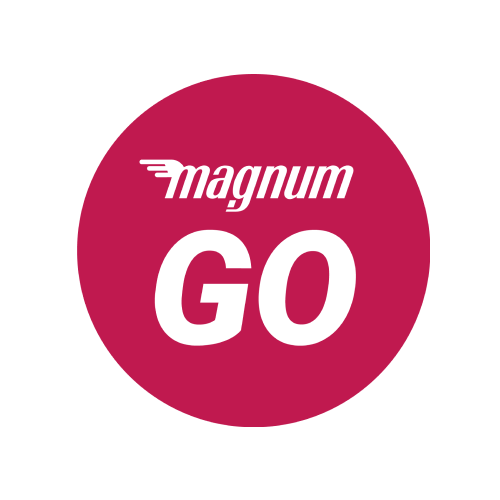 The e-commerce boom has spurred traditional retailers to reimage customer services, and the pandemic has exacerbated that trend even further. With the change in the consumption model, new and difficult-to-implement services, such as food delivery from the store, are in greater demand. MagnumGo is an online supermarket of the largest Kazakh retailer Magnum Cash&Carry. The… Read More »Automation of largest Kazakh retailer's Dark Store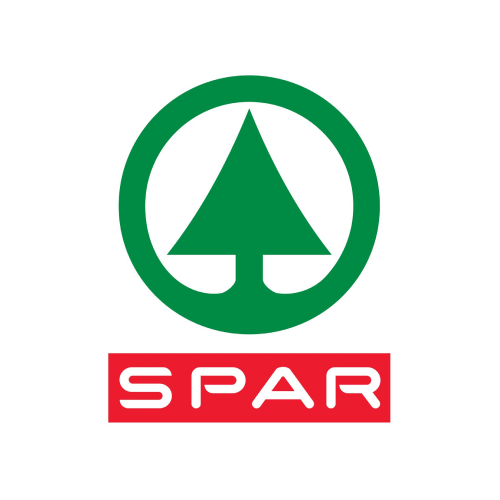 SPAR is one of the largest supermarket chains in the world with 13,700 stores, serving 9 million customers daily. Commodity circulation exceeds 27 billion euro. SPAR unites independent wholesalers and retailers under one name and works in 35 countries worldwide. Retano SCM launched in 50 SPAR Supermarkets Preparation for implementation Retailer's project team developed goals… Read More »Supply chains automatization in SPAR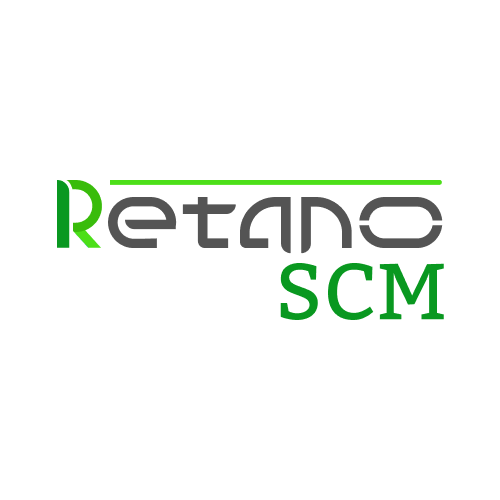 Most demanded products generate up to 80% of the retail chain's revenue. These products must always be present on shelves. Even one hour of product's absence from the shelf leads to lost sales. Systematic Out-of-stock distorts sales statistics and leads to more errors in orders. That may lead to the gradual outflow of demanded… Read More »Benefits of AI based automated ordering